Proof that when you become a mother, your heart beats outside of your body.
P.S. I'm forcing myself to refrain from the "this isn't the first time your baby's gonna wake you up" comments.
Mom in near-fatal coma saved by one-week old baby girl
CHARLOTTE, NC – Mike Hanson, WCNC-TV, Charlotte
Every birth has a story. For Shelly Cawley, the story of the birth of her baby girl, Rylan, has medical personnel at Carolinas Medical Center-NorthEast believing in miracles.
"I clearly remember laying on the stretcher to take me back to the operating room and I was crying. I was telling the doctors that I was scared that I wasn't going to wake up from my surgery. Which is kind of eerie to look back on because I was right," Shelly said.
"It was an emergency C-section. Shelly had to be put to sleep so I wasn't allowed in there," said Jeremy Cawley, Shelly's husband.
During the surgery, a blood clot broke loose sending Shelly into a coma.
"She had a lot of fluid in her lungs, they were having trouble getting oxygen to her brain, they were having trouble getting her blood pressure up," Jeremy said. "And it just seemed as if she was done fighting."
With the new mother now in a coma for a week, there was little hope. Then an idea from the nursing staff.
Staff Nurse Ashley Manus, who was part of the team, said, "We knew skin to skin contact is very beneficial to an infant, so we thought why not try it for a mom. Because the baby was already thriving. She was doing great."
Jeremy placed the newborn on her Mother. The baby went right to sleep.
"Rylan went right to sleep. It's not what we needed. We needed Rylan to cry. That's what the nurses were saying," remembered Jeremy. "We were poking, and tickling to get Rylan to make some noises, but she was so happy that (crying) wasn't happening right away. Once she did… when she started crying out, I think it really got inside Shelly and woke her up."
Shelly started to get better. And is now fully recovered.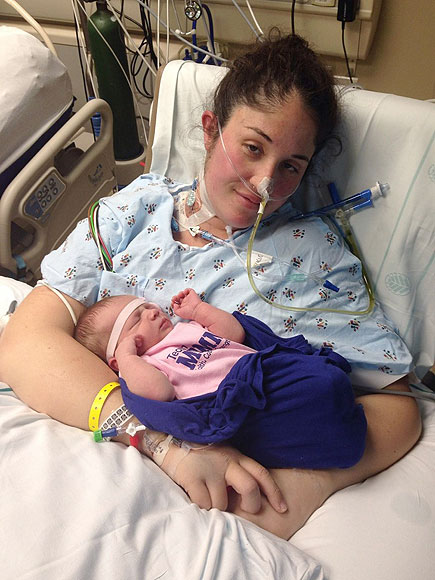 Nurse Manus is amazed, "I'm 100% a believer in miracles."
Shelly has put it all in perspective, "I think it's pretty amazing. It just amazes me that a baby so little can have such a big impact. They're pretty much helpless. They can't do anything, but yet she was able to… Her crying was able to give me something to fight for."